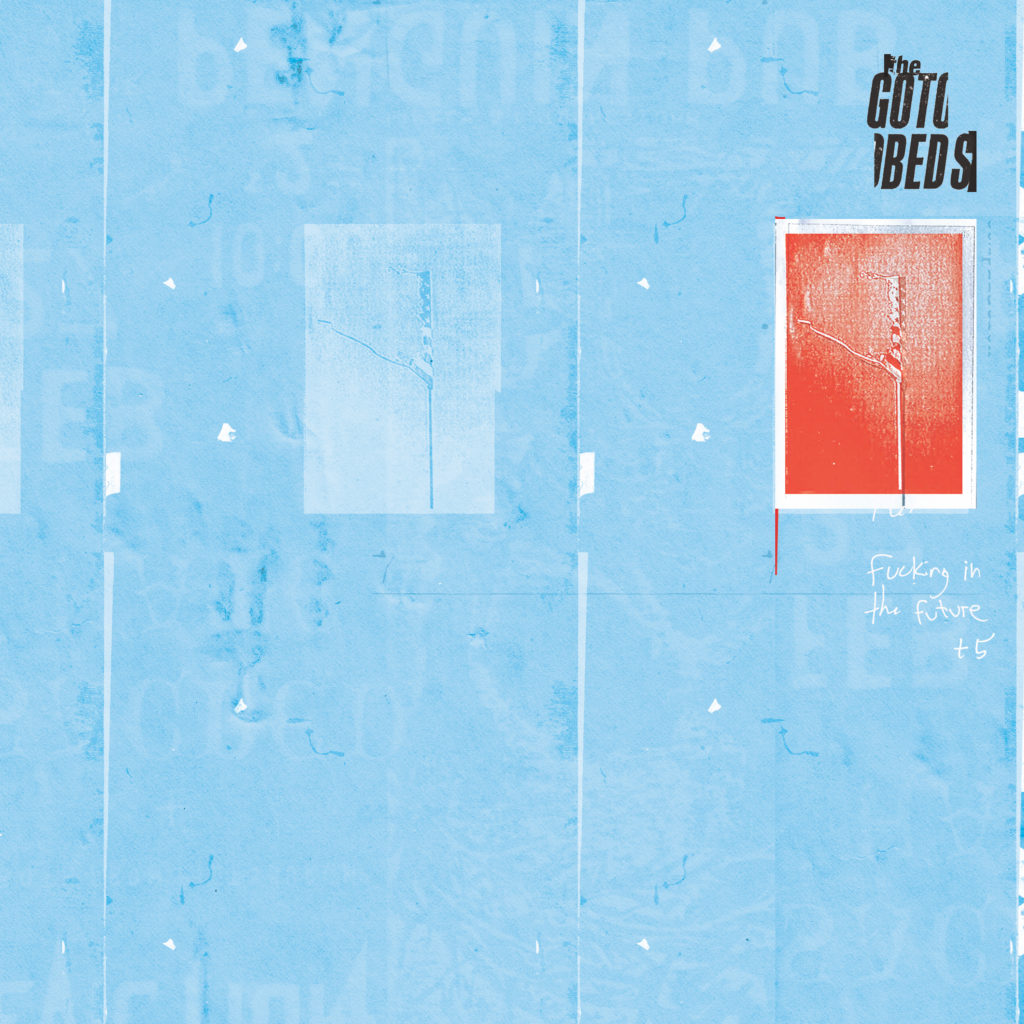 The Gotobeds demo + singles collection "Fucking in the Future +5" is out now!
Black vinyl copies are completed, but unfortunately the limited edition white vinyl copies have been delayed slightly at the pressing plant due to a quality control issue.
Your pre-orders will ship as soon as possible and we apologize for this unexpected hold up. If you would like a gratis download code in the interim we are happy to provide. Just let us know.
Physical records of both colors can be still ordered direct from Comedy Minus One right here.
Digital files can be downloaded / streamed from the following locations, among other services:
iTunes : Bandcamp : Amazon : Google Play
If you would like your favorite North American record store to stock "Fucking in the Future +5,"  please request they order from Revolver.
For TV / Film licensing, please contact Lyle Hysen at Bank Robber Music – info@bankrobbermusic.com.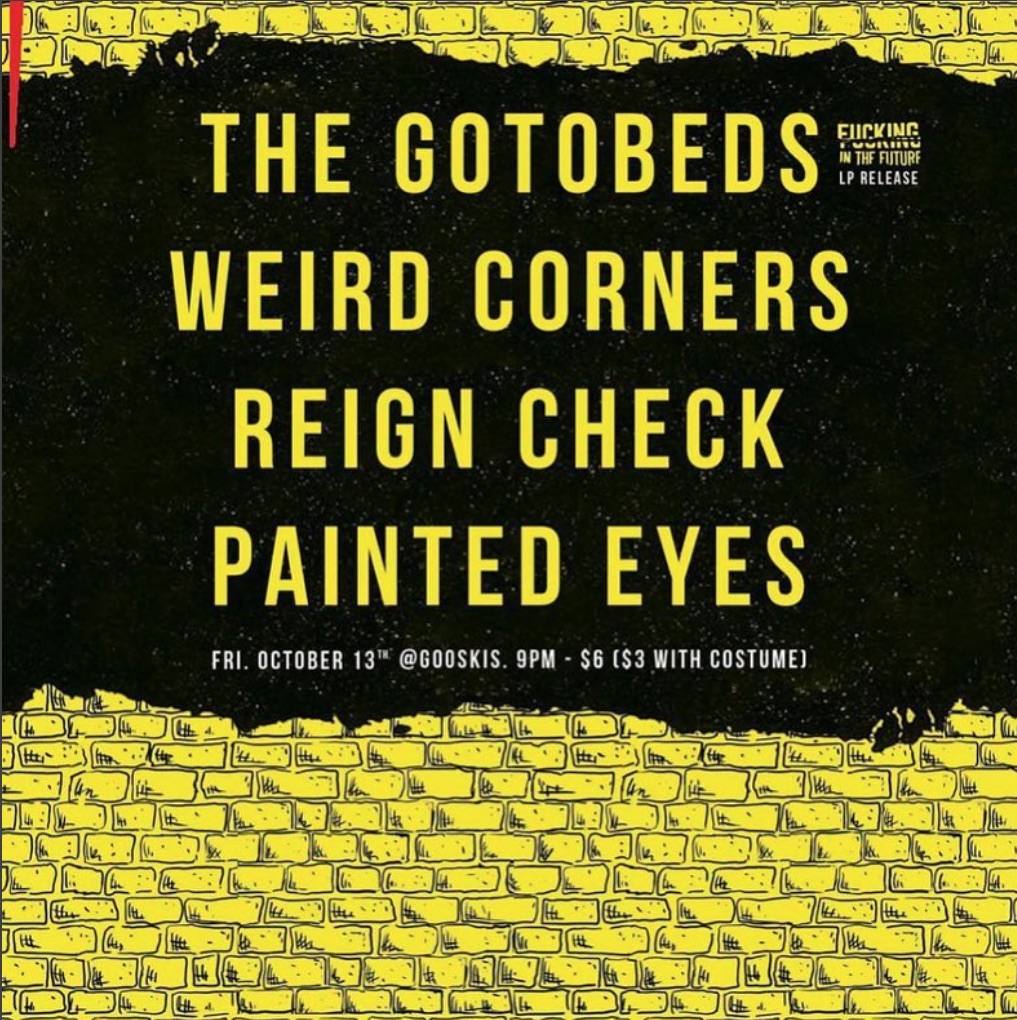 Tonight at Gooski's in Pittsburgh there's a "FITF+5" record release celebration.
Weird Corners, Reign Check and Painted Eyes support.
Just $3 to get in…if you go in costume!
The Gotobeds : "Fucking in the Future +5" Lp / digital downloads
Curious aesthetes! Cursorily interested parties! Whatever the opposite of well-wishers are! You are each are invited to re-examine The Gotobeds' past that is contained herein.
These sounds represent the embryonic stages of said band – Five songs are culled from their unfortunately-titled 2012 demo tape "Fucking in the Future," four are from the Mind Cure 45s "Ipso Facto" and "NY's Alright," as well as a recently-recorded cover of "Flowers Avenue," a song by their dearly-departed friend and Pittsburgh music legend Karl Hendricks.
From demo to forever-out-of-print 7"s to the cover, "Fucking in the Future +5" spans the earliest recording of the band to the their most-recent (the Karl Hendricks track was recorded in March 2017).
Boy how they've grown! When the band convened on the studio for the first time ever as a unit in those halcyon days of 2012, it was a bleak scene. The drummer forgot his floor tom. The bass speaker had torn recently and was not replaced. The singer was at the mercy of the final stages of mono and the guitarist didn't show up for live tracking (due to a previous night of gambling at the casino). 
Little has changed however. During the final take of "Flowers Avenue," drummer Getty Images dropped his stick at a thrilling climax during the solo (check the 4:10 mark) and the band – assuming the take was a throwaway – played harder and took more risks with their improvised parts, lending the song a looser and more exciting feel than previous takes. Happy accidents are what the band trades in.  
The rest is allmusic.com history. The Gotobeds went on from their initial recordings to the WFMU studios, into Gerard Cosloy's hands for their debut LP on 12XU, the brilliantly titled Poor People Are Revolting, to critical darlings and eventually the cut-out bin at Sub Pop's airport store.
From there, who knows? 
"Fucking in the Future +5" (cmo042) was released through Comedy Minus One on October 13, 2017.
SELLING POINTS:
This is the first time the entire GTB demo tape has been available on vinyl!
Remastered by Mr. Matthew Barnhart at Chicago Mastering Service (if you know, you know).
The two Mind Cure 7"s are out of print FOREVER. These tracks are now only available here (smart ass, it's a different version of "NY's Alright" OK???).
Includes a brand NEW cover of The Karl Hendricks Trio's "Flowers Avenue" exclusive to this release. Hazy Lazer cried while singing it.
Gorgeous new full color artwork.
Limited to 500 copies, with the first 200 pressed on white vinyl. Buy now or scan Discogs later!!!
Side A
New Dress (Debutante)
Blank Stairs
New York Swagger
LUST-AHHHH!!!!!
(I Wasn't Made) For These Times
Side B 
Ipso Facto (It's All Happening)
Television Addict
New York's Alright (If You Like Sex & Phones)
Prisoners of Love